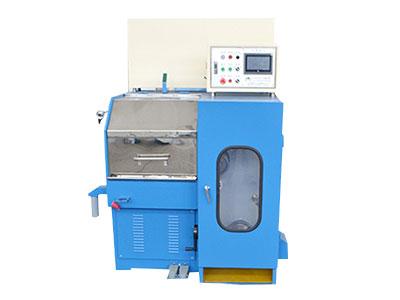 LHS220-24 Auto Fine Wire Drawing Machine and Dies
Descriptions
The LHS220-24 auto fine wire drawing line features a no-tension-rod auto spooling structure. Its minimum finished wire diameter is 0.1mm. Common wire drawing machines apply a tension rod for manual spooling, meaning the equipment requires a properly trained operator. Our wire drawing machine applies a no-tension-rod structure that completes spooling jobs via PLC, making it possible for multi-device operation all with only one operator.
Specifications
Model
LHS220-24
Inlet Wire Diameter
φ0.55-φ1.2mm
Finished Wire Diameter
φ0.10-φ0.40mm
Drawing speed max
2200 m/min
Number of Drawing Dies
24
Die elongation
14% - 15%
Lubrication Method
Lubricant spraying (flat fan)
Total Power
15.5kW/21kW
Motor Power
15kW/5.5kW
line arrangement
Ball screw driven by servo motor to rotate take-up axis
Take-up Bobbin Diameter
φ300×270×φ215×250×φ125mm
φ400×304×φ270×280×φ127mm
Machine Dimension
1620×1565×1995mm(L×W×H)
Machine Weight
2.13 t
Max. Take-up Bobbin Weight
50-100 kg
Display
Touch screen
Send an Inquiry
If you are interested in this product, feel free to contact us anytime!
The LHS220-24 Auto Fine Wire Drawing Line is our standard type, We also provide customization services tailored to your wire drawing needs. For example, specifications (number of dies, lubricant formula, case material, outlet die angle adjustable range, etc. )can be adjusted according to metal materials with different physical properties.